Specials
Cliff Seaman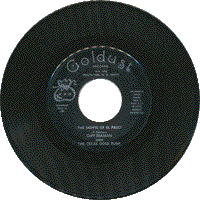 When I lived in El Paso back in the mid 1970s there was a pub on
Dyer Street managed by a German married to an American girl. We went there quite often to have a beer and play some pool. And we often put a quarter in the jukebox to listen to different kind of music including pop, rock'n'roll and old and new country. But there was one single we selected almost every time. The title of the song was The lights of El Paso sung by Cliff Seaman with the Texas Gold Rush and released by Golddust Records out of Mesilla Park, New Mexico (just outside of Las Cruses) in 1974. Cliff was a local country musician in West Texas and New Mexico at that time. But I never had the chance to hear him in concert or in a honky tonk. And I tried to buy the single, but couldn't find it anywhere. So I asked the barkeeper if I could buy the single just out of the jukebox. He asked the responsible company and they presented me that small black vinyl disc at no charge. As I found out only 500 singles were pressed in hope to sell a long play album with this song later. But that didn't happen.
And here is a short sample of the song. Just click on the player below.
I'm listening to the song sometimes. And it brings up a lot of memories of those years in El Paso.
Shortly after I posted this entry Cliff Seaman contacted me and thanked for being so kind. He's still active in the West Texas / New Mexico area and has a CD available which includes a newly recorded version of this song. If you're interested in please mail to eptroubadour@gmail.com .
Texas shaped records
Our youngest son was born in El Paso back in the mid 1980s. And after some more years in Germany we returned to the United States in 1989. At the immigration office in Washington D.C. I handed over our passports to the officer with the note that he's an American. The lady took a look and answered, "He's not only an American, he's a Texan". Yeah, Texas is something special, like Bavaria in Germany. And I don't know why, but I love Texas, too. I even have two vinyls which are Texas shaped.
Bob Wills and his Texas Playboys - The Greatest Hits Of Texas
This album was released in 1984 by Rhino Records with the number RNDF 284. The vinyl was packaged in a clear plastic envelope. And all information was printed on a cardboard.
Rhino Records had licensed four songs from Kaleidoscope Records and pressed two songs each on every side of this Texas shaped vinyl. The 'Topography Side' (Side A) included 'San Antonio Rose' and 'You're From Texas' while 'Home In San Antone' and 'Across The Alley From The Alamo' were on the 'Striped Side' (Side B).
As I found out later there were two versions of this disc. Beneath the one in my collection there was one on clear vinyl. Everything else was identical except the 'Striped Side' which had the red, white and blue stripes all over.
Various Artists - Texas Proud (1836-1986)
This picture record was released in 1986 to mark the 150 years of the Republic of Texas. On the front of the cover it is written Texas Sesquicentennial Limited Edition. A numbered certificate is inluded which guarantees a maximum of 10000 publications. Also included are reproductions of a map and three letters. The originals were on loan from private collectors by authority of their owners. The Map of Texas is dated 7th May 1843 and the letters were written by David Crockett, by Sam Houston from the San Jacinto battlefield, and by William B. Travis all in 1836.
As you may imagine this album consists of traditional Texas music by Texas recording artists. The songs are:
The Pride Of Texas - Texas Medley (Eyes Of Texas / Texas Our Texas)
Curtis Potter - Texas Proud
Ernest Tubb & Willie Nelson - Waltz Across Texas
Tanya Tucker - Texas (When I Die)
Bob Wills - Deep In The Heart Of Texas
Johnny Bush - Texas In My Soul
Johnny Bush - There's A Little Bit Of Everything In Texas
Billy Walker - Beautiful Texas
By the way these albums are not for sale at all.
Disclaimer:
I do not own the copyrights for any of the works nor do I profit for posting them on here. These songs and covers are simply for entertainment purposes and to highlight the work of the artists.