George Strait
A fact filled look at a real Texas cowboy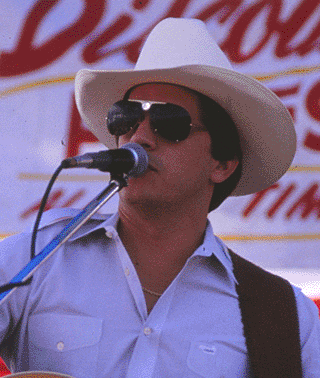 One of my top favorite country stars is George Strait. He already was on his way to superstardom when I saw him for the first time live. It was an open air concert in the parking lot of a dancehall in El Paso, Texas on August 19, 1984. That venue was called Dallas. It was the biggest and best known place for contemporary country in town at that time. George and his Ace in the Hole entertained the crowd for almost two hours non-stop with all the hits he had up to that day plus a lot of standard two-stepping tunes for those who circled on the tarred dancefloor.
George Harvey Strait was born on May 18, 1952 in Poteet, TX. Although his parents lived in Pleasanton, just 20 miles south of San Antonio, the nearest hospital was eight miles away in Poteet. Still a toddler the Straits moved to Pearsall, 40 miles southwest of San Antonio, where father, John Strait, worked as a junior high school maths teacher. On weekends, George and his older brother Buddy helped their father and their grandparents to run the family's 2000-acre ranch in Big Wells, additional 40 miles southwest.
The parents divorced when he was in fourth grade. While the two brothers stayed with their father, younger sister Pency went with her mother. As a young boy he spent much time on the farm helping to tend the cattle. And different to many or most other stars he hasn't got an own guitar at an early age, hasn't practiced singing every day, and didn't grew up with the dream of being the next Hank Williams, Sr. He even didn't knew that his voice could be the base for a future career. Just for the fun he sang some rock songs in ever-changing kind of garage bands with no further ambitions. His interests were more with Norma, his high school sweetheart. After he graduated they eloped to Mexico to get married without her parents allowance cause she still attended high scool in Pearsall. But they repeated their vows a few weeks later officially. So on December 04, 1971, George married the same girl for the second time.
At 20 he joined the Army and was stationed on Hawaii. On base he taught himself how to pick the guitar using some Hank Williams songbooks. Within a short time he had learnt a handful of country tunes. When Norma and friends discovered how good he could sing they persuaded him to an audition with a military country band. And soon he became the lead singer.
Announced as "Rambling Country" they entertained the troops three times a week at different military locations. Cause board and lodgings, travelling expenses and instruments were paid by the Department of Defence, somehow the American taxpayer financed the take off of a future country star. Whenever possible the group members put off the uniforms, dressed in western wear and played off the base under the name "Santee".
After three years in the service stationed in Hawaii all the time he returned to Texas in 1975 and settled in San Marcos halfway between San Antonio and Austin with wife Norma and daughter Jenifer Lyn (born October 06, 1972 in Hawaii). George attended Southwest Texas State University, where he studied agriculture. To pay for a living he earned some maney as a real cowboy.
At the same time the lead singer of a local band called " Stoneyridge" departed to persue a solo career. But the rest of the band decided to stay together. Therefore they put up an ad on a bulletin board on campus. George read it, contacted the group, and they arranged an auditioning. From the beginning everybody felt lucky. Bassist Terry Hale, drummer Tommy Foote (who later became George's road manager), meanwhile deceased Ron Cable on lead guitar, and guitarist Mike Daily had found an excellent lead singer to front the group. And George had found a solid band because he enjoyed singing so much. It was one of those moments like when syrup and pancakes were mixed together for the first time. First they changed the band's name to "Country Kings" before they finally came up with "Ace in the Hole". They earned some reputation in the local country scene playing in almost every honky tonk in the San Antonio - Austin area.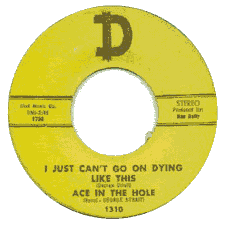 On May 18, 1977, George's 25th birthday, they made their first recordings for Pappy Daily's "D" record label in Houston. At Dogget's studio they cut "I just can't go on dying like this" written by George and produced by Donald Daily, a son of legendary Pappy. In addition to the band members only one studio musician, Bill Mabry, was brought in to play the fiddle.
As B-side they recorded Dallas Frazier's "Honky tonk downstairs". This 45 rpm vinyl was published by Pappy Daily's Glad Music Co. and labeled under "Ace in the Hole (Vocal - George Strait)". Unfortunately it failed to become at least a local hit.
Two more 45s with the same line-up followed. "The way I feel about you" with b/w "Lonesome rodeo cowboy" and "I don't want to talk it over anymore" with b/w "Loneliest singer in town". Both A-sides were again written by George himself, while the B-sides were penned by Clay Blaker.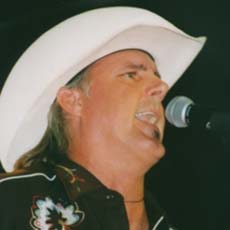 These two singles were again produced by Donald Daily on the "D" record label and published by Glad Music. But they sticked in the shelves too.
'Til 1979 George worked as a foreman on a ranch during daytime and hit the stages in clubs all over Southwest Texas at night. He also took all the exertions travelling to Nashville three times during the late seventies, to record some demotapes and manage to grab a recording contract. On one of these trips a producer told him to adopt the pseudonym "Kane Cooper". That name would sound more commercial. But George immediately left the office to look for another producer. He almost gave up his dream and wanted to lay aside the guitar trying to support the family with a steady job. But then he met Erv Woolsey. Erv had been a former Texas club owner where George and Ace in the Hole had gigs several times. Now Erv was working for MCA Records in Nashville. He arranged a recording session and convinced MCA executives to sign George in 1980. Later Woolsey became George's manager.
On May 14, 1981, Norma gave birth to George Strait, Jr., nicknamed "Bubba". Just a few days earlier MCA had released George's first major label single (MCA 51104). "Unwound", a song written by Dean Dillon and Frank Dycus, entered Billboard's Hot Country Singles charts on May 16, 1981. It reached its zenith almost three months later ranking at #6 on August 8. The B-side was "She's playing hell trying to get me to heaven". As next MCA fielded another Dillon-Dycus collaboration with "Down and out" (b/w "Blame it on Mexico"). But this one just failed to reach the top ten.
Almost simultaneously to the second single MCA released George's debut album simply titled "Strait country" (MCA 5248). And it was straight country. The lyrics may seem a little rough around the edges, and the production may seem to lack, but for most country listeners that seems to be a strength and that's what true country is all about. During a time when country drifted more and more towards pop music George not only found a niche for himself instead he reanimated the country music with his mixture of honky tonk and Western swing. Upon another success with his third single "If you're thinking you want a stranger (there's one coming home)" he gave up all other jobs and became a full time musician.
Mid 1982 "Fool hearted memory", a song from the movie "The soldier" starring Klaus Kinski and having George Strait and Ace in the Hole in a cameo role, entered the singles charts and climbed all the way to the top on August 28. It was the beginning of a nearly uninterrupted string of number ones which lasted a full decade. And it continued till the end of the millenium with just a slight curtailment.
With George's third album "Right or wrong" (MCA 5450) he achieved another aspiration by topping Billboard's Top Country Albums charts in 1984. Released just before Christmas 1983 the album remained in the charts for exactly two years with five weeks at #1 starting on February 18, 1984. Comparable to the singles chart success the same pertains to the albums. Most of them reaching number one up to today.
Life changed a lot for George and Norma when 13 year old daughter Jenifer was killed in a traffic accident near San Marcos shortly before midnight on June 25, 1986. Jenifer was riding with friends when the driver lost control of his car. In his sorrow George immersed himself into his work deeper and deeper. Looking back on his string of hits you won't find any gap caused by this painful loss. As he worked harder the more success he had.
After his minor role in "The soldier" George appeared again on screen premiering on October 23, 1992. This time George starred as the principal character in the movie "Pure country". He portrays a country singer called Dusty Wyatt Chandler, who gets dissatisfied with himself and trys to find back again to his ego. He leaves the glamour of his over-produced shows behind and returns to his roots. The original motion picture soundtrack consisting of ten specifically for the movie and for George written songs also comprised "Bubba's" opening performance in the movie. Maybe he will follow in his father's steps who already became an idol to many younger aspiring country singers in the nineties.
The soundtrack already selled six-times platinum. It's George's most successful album next to his 1995 release "Strait out of the box". Latter is a four compact disc set containing 72 personally by George selected songs and covering his entire MCA recording career plus additional rarities. A comprehensive 72 pages booklet rounds up a must for every George Strait fan.
Today almost thirty years after his breakthrough George is still doing great. With more than 100 charted songs to his credit he's still counting and occupying the top spot sometimes.
He had won many awards through the years. Any transcription might be incomplete. Just check at George's website under "Meet George" / "Awards". You'll also find a lot of additional facts or nice to know information there.
Here's a list of my George Strait music collection.
© 2004