Moe Bandy
Bandy, the Rodeo Clown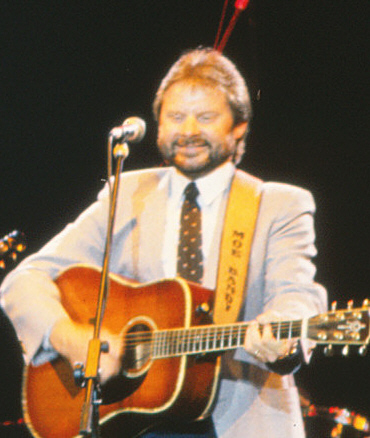 He was the first international star I saw life performing. Just right at the time when he made his first steps to stardom. It was back in February 1975 during my first stay in Texas that I went to the Southwestern International Livestock and Rodeo at the El Paso County Coliseum where Moe was the entertainer of the evening during a break of the rodeo events. I immediately fell in love with his kind of music. More than a decade later, in April 1986, I had the chance to see him again in Frankfurt, Germany.
Marion Franklin Bandy, Jr., which was his given name, was born on February 12, 1944 in Meridian, Mississippi, to a music loving family. His grandfather had worked on the railroads together with the Meridian born Father of Country Music, Jimmie Rodgers, who played his guitar whenever possible. Maybe that was the reason why Moe's father also picked up the guitar while his mother played piano and sang gospel. At home they tuned in to the music of Jimmie Rodgers and Hank Williams.
When he was six years old the Bandy family including four more brothers and a sister moved on a farm just outside of San Antonio, Texas. It was there that his father assembled a country band called "Mission City Playboys". Moe watched and listened very often and really became interested in playing guitar by himself. So he practiced very hard and soon could join his father on stage.
During high school he started to participate at rodeos together with his brother Mike who quallified in bull riding six times for the National Finales Rodeo later and even became third in the world rankings once. But after a few years, repeated injuries and a lot of broken bones Moe quit rodeo to start a career in country music. He formed a band and played at honky tonks in and around San Antonio calling themselves "Moe and The Mavericks". To maintain his livelihood he earned his money as sheet metal worker for his father. In 1964 he made his first of several independent recordings. But his self-penned single "Lonely Lady" released by the small label Satin Records failed to hit the market. During the next almost ten years Moe and his band performed at night clubs and beer joints. He also got regular appearances for them at a local TV station and their show "Country Corner". They also shared the stage as opening act or even provided back-up for big stars like Bob Wills, Stonewall Jackson and Loretta Lynn while on tour in Texas. They really were enjoying success in the honky-tonks and clubs, but Moe ever yearned for something more.
In 1972 he met record producer Ray Baker in San Antonio and convinced him to listen to some demo tapes he had made. Baker was very impressed with Moe's talent and sincere desire for success. Together they picked out some material to record, went in and tried it once more. Moe had pawned all of his furniture to cover the cost of the $900 recording session. One of the recordings was the A.L. 'Doodle' Owens / Sanger D. Shafer penned song "I just started hatin' cheatin' songs today". Because Moe paid for the recording session by himself only 500 copies were pressed by the small label Footprint Records. But one copy landed on the desk of the Atlanta-based GRC Records and captured their attention instantly. Re-released as GRC 2006 in March 1974 the single entered the Billboard Hot 100 Country Singles by the end of the month and finally peaked at number 17 on June 1, 1974. Just two months later GRC released the freshman album with the same title.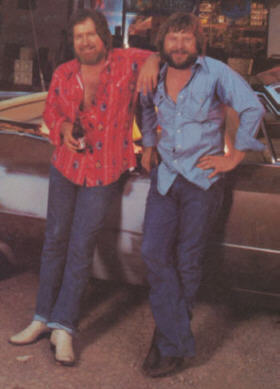 Although honky tonk music was declared dead in the mid seventies and not worth a cent Moe Bandy hit the country music business like a bomb. With his third release "It was always so easy (to find an unhappy woman)" he reached the top ten (#7 on 1/25/1975) for the first time. One year later he just failed to peak the charts with an homage to his great idol Hank Williams ans the song "Hank Williams, you wrote my life" (#2 on 2/21/1976) penned by Paul Craft. It was the first release on Columbia Records. Moe stayed in the top ten for almost a decade with his true country music.
At the end of the 1970s Moe has had his most successful time while teaming up with his label mate Joe Stampley. Together as "Moe & Joe" they topped the charts with their instant single "Just good ol' boys" on September 22, 1979. And only a few months later Moe had his one and only solo charttopper with the release of "I cheated me right out of you" (#1 on 12/8/1979).
While top rankings failed in the mid 1980s he changed the record label and released some more singles and LPs on MCA/Curb Records. First it looked like a restart. But he not only had changed labels but also producer and sound which was more pop-oriented now. His recordings became smoother and spoiled by string or choir arrangements.
Over his long lasted career, Moe has recorded more than thirty albums producing more than fifty chart hits. He has earned four Academy of Country Music awards, and a 1980 Country Music Association award. Back in 1991 he was one of the first entertainers to appear at his own theater in Branson, Missouri.
Here's a list of my Moe Bandy music collection.
© 2014